The G-man: a Year After.

Itís been a little over a year now since Kevin Gobrecht passed away and it still hurts to think about. Every time I see the Amoco #93 sprint car die-cast at a local gas station, I get reminded of it. Unfortunately when I see the toy car I donít think, "cool, kids might actually know who Dale Blaney is someday." Instead I think, "Kevin Gobrechtís car. Man, what could have been!" or "Thatís the G-manís ride. He should still be in it."

I know Iím an Indiana Racing columnist now, but I still have fond memories of Central PA, and Kevin is a major one. We both left Central PA around the same time last year, and I got to see Kevinís career begin at Williams Grove in his first year in sprint cars in 1995. Heck, the first race of the 1995 season was Kevinís first race at the Grove and he won his first heat race. Thatís one thing I wonít forget. I also wonít forget in 1991 or so when I was still living in New Jersey and with my uncleís DIRT Modified team is hearing about some Micro Sprint guy leading the Northeast in wins in the Area Auto Racing News. He was beating out guys like Brett Hearn, Doug Hoffman, Billy Pauch, Lance Dewease, Todd Shaffer, and Fred Rahmer. This was unheard of. Soon after I moved to Central PA and heard he was going sprint car racing, I was interested in watching him.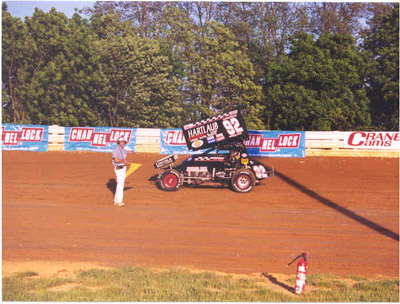 He had some big moments in his career. The first was beating Fred Rahmer at Lincoln Speedway in his rookie season. Thatís an accomplishment even for a veteran. A few weeks before that almost won his first race at Lincoln with a left front flat! He ended up third or something like that, but thatís impressive in itself. Then in 1997 he moved from the family car into the Apple #12, and learned what pressure was. He did a lot of wrecking that year trying to find where the edge was, but when he found it he was in victory lane. They called him the "Apple Turnover" that year, but he was still fast when he was on all four tires. He won at least one "championship" race at Williams Grove (now called the Diamond Series). Towards the end of the year he split with the Apple team and went back to his familyís car.

In 1998 he spent the first part of the year racing in the Gobrecht familyís car, but when Billy Pauch was injured, he filled in driving the Zemco car. Thatís when things really started to take off for Kevin. The team gave Kevin everything he needed as the Apple team did the year before, but this time he just seemed ready for it. The team won races, ran up front with the WoO, and really gelled. He stopped Fred Rahmerís 12 race winning streak at Lincoln, too.

When Billy Pauch came back the Zemco team fielded two cars and both cars ran well. Kevin beat the Outlaws in the late summer and Pauch won the non-sanctioned National Open (the way it SHOULD be!). Then next year they painted the cars silver and went to Florida where Kevin won and destroyed a car. After the fiery wreck, someone on the crew as a joke put flames on the car, and thatís about the time Kevin started winning everything in sight. He even won three races in 24 hours (Williams Grove, Port Royal, and Lincoln). Thatís when the Blaney-Hylton team came calling. Within one week Zemco lost both of their driver who had been at the top all spring, Kevin to the WoO, and Pauch to a more concentrated effort on modified racing.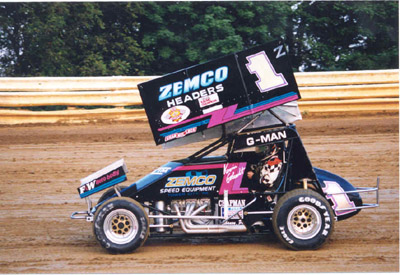 Kevin ran well in his first few races in the Amoco car, but then hit a bit of a slump. When the WoO came back to Pennsylvania in the summer, the team wasnít with them, opting to go back to the shop and fix the situation. Boy, did that help. In August Kevin won the "Historical Big One" at Eldora, then finished third to Mark Kinser and Danny Lasoski at the Knoxville Nationals. He really started rolling in the WoO, but then it all came to a screeching halt.

It took one shot to the top of the roll cage to end the career and life of Kevin Gobrecht. It was at I-80 Speedway in Greenwood, Nebraska, in a WoO preliminary race, on lap 15. Something happened and Kevin flipped, then another car had no where to go and hit him in the top of the cage. It was one of those "raciní deals" that Rece Davis annoyingly talks about, but this time it was more than that. Much, much more than that. It ended a life who was very precious to the Gobrecht family and the racing community. It ended the life of a very promising future super-star in our sport, and reminded many of us of our own mortality.

This accident really effected me more than I can describe. I watched Kevinís career develop in sprint car, and he was one of my favorite drivers. A year before I had already decided that I could never drive a race car because of my nagging Post Concussion Syndrome, but I also started to doubt whether I could even continue to follow the sport. I never really touched this in my columns last year, but I came close to leaving the only sport Iíve known for the first 24 years of my life. The thing that kept circulating through my head was "how could I support a sport that takes sons away from mothers, husbands away from wives, fathers away from children." (reverse them for woman drivers obviously). I was looking at being a husband at the time, and now Iím looking at my first child coming into the world, so that really brought me some perspective.

I have struggled with this for a year now. I have changed some things, such as I go to one race per weekend to spend the rest of the time with my wife (and soon my baby, too!), and I havenít skipped church for a race all year. Iíve tried to put my priorities in line a little better. Racing was my life before then, but now itís only a part of my life. Itís kinda nice.

With this new clarity I have found, I also have done some research into things. I was thinking one day, would I let me son play football? Well, since I married into a huge football family, I said, "of course!" I have always said that Iíd let my kids race if they wanted, but after last year I started to doubt that. Well, now Iíve done some research. According to a University of North Carolina study there were 17 deaths in high school aged kids in 1999 playing football, five of them from major head injuries. In Brock Yatesís column on Speedvision.com he mentioned that there were 11 deaths since September this year already (I havenít found his numbers yet, but Iím looking). Now compare that to the about 8-10 Iíve calculated this year for racing, and I think we have an even comparison.

For some reason the press doesnít pick up on this, they just see someone in a "dangerous" sport like racing getting killed and have to say something about it. There is something wrong with this picture. A race car driver knows he or she has the chance of not coming back to the trailer when the race is over, but how many football players understand the risk they are taking? Even racing parents know the risk of what their kids are doing, but do football parents? I hope they do. Sports are a great thing to be involved in, but Iíve asked myself, "Are they worth dying over?" This is how I look at it. God has a plan for each and every one of us that we donít know. All we can do is follow that plan, and enjoy life while we are here. Maybe being a Christian helps me put all of this into perspective, but I believe God put us on Earth to do good, touch others, and live a good life. If we live according to his plan, we donít have to worry about "dying" anyway.

Unfortunately Kevin is gone from this earth, but hopefully he is not gone in our memories. I know I will remember him for a long time.

Tommy Brolsma